---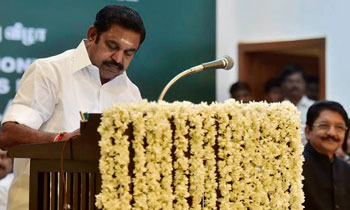 Edappadi Palaniswami, who was sworn-in as the Chief Minister of Tamil Nadu on Thursday, won the trust vote in the Assembly where 122 MLAs voted for him, while 11 voted for O Panneerselvam.
Majority needed was 68. This will pave way for him to continue on with the position. Palaniswami was administered the oath of office by Governor C Vidyasagar Rao after he submitted a letter on February 14 claiming he was elected as the Leader of the AIADMK Legislature party in a meeting of its MLAs that day.
Palaniswami, who belongs to VK Sasikala's faction of the party, became the second party leader to become the chief minister of the state after the demise of J Jayalalithaa on December 5 last year. O Panneerselvam, who was immediately sworn-in as state CM after her demise, could not garner the much-needed support to win the floor test in the state Assembly.
Earlier, DMK and Congress supported the demand of a secret ballot by O Panneerselvam fraction. However, Speaker P Dhanapal rejected the demand. Leader of Opposition MK Stalin, who was allowed to speak ahead of the trust vote, said that the floor test should be postponed. The proceedings were delayed because a ruckus broke out in the Assembly.
The House was adjourned twice as protesting DMK MLAs heckled the speaker. Meanwhile, Stalin also alleged that he was manhandled as he spoke to the media wearing a torn shirt outside the Assembly. After the session resumed at 3 pm, the Congress MLAs staged a walkout from the Assembly. The session was resumed after DMK MLAs were expelled from the House.
Prior to this, the state witnessed a tussle between Panneerselvam and Sasikala over the post after former claimed that he was forced to resign from the position and was ready to withdraw his resignation if the public demanded. However, Sasikala's conviction in a disproportionate assests case by the Supreme Court blocked her chances.
OPS, who had support of ten MLAs to begin with, claimed that he was was former CM jayalalithaa's choice for the position. Palaniswami was given 15 days by the Governor to prove his majority in the House. (The Indian Express)