---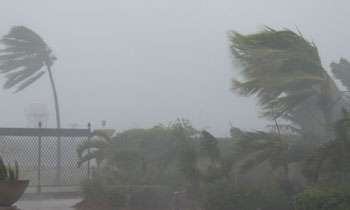 At least 1,500 people belong to 366 families in four districts have been affected by strong winds over the weekend, the Disaster Management Centre (DMC) said today.
According to its reports, two fishermen from Talaimanner and one from Beruwala went missing while four others were injured due to accidents caused by prevailing strong winds.
It said that nine houses were completely destroyed while 114 houses received partial damages in Northern, Central, North Western and in Southern provinces.
DMC Deputy Director Pradeep Kodippili said around 30 houses in Udubeddawa, Kurunegala had been partially damaged due to strong winds yesterday while several houses and small fishing boats were damaged in Muthupanthiya in Puttalam District.
Also, several houses in Panwilla in Kandy District and Kilinochchi District were damaged due to strong winds yesterday.
Mr. Kodippili said that relief services have been directed to those areas under the instructions of Divisional and Pradeshiya Sabha Secretaries..
DMC instructed the public to remove unsafe branches and trees near houses in order to prevent damages caused by high winds.
He also requested the public to inform of unsafe trees at public places via DMC hot line 117.
Quoting the Meteorology Department Forecasting Report, he said that showers over 75mm are expected in the Western and Sabaragamuwa Provinces and in the Galle, Matara Districts during the next couple of days.
Accordingly, strong winds are expected across the Northern, North Central, Western, Southern, Sabaragamuwa, North Western and Central provinces while sea areas around the island also could get rough as a result with winds between 60 to 70kmph.
Meteorology Department said that prevailing windy condition over the island and in the sea areas around the island is expected to reduce gradually after tomorrow.
DMC warned the public to remain alert to minimise accidents caused by high winds. (Thilanka Kanakarathna)