---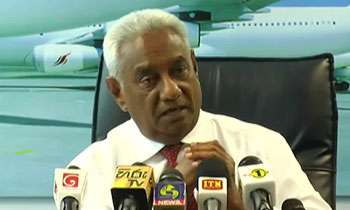 The ailing national carrier, SriLankan will begin its restructuring programme soon after the board of directors approve the plan submitted by consultants Nairas - UK.
The airline's Chairman Ranjith Fernando said yesterday the programme included the securing of a partner or investor, streamlining and re-arranging of routes and cutting down on excess or unproductive staff.
He told Daily Mirror the restructuring programme was approved by the Cabinet and the SriLankan board of directors would approve it before the end of April.
"Our priority would be to re-negotiate the purchase and termination contracts with Airbus Industries and the airline leasing company AerCap based on the renegotiation strategy proposed by Nairas on the basis that the leasing of aircraft by the national carrier has become an unbearable burden to the airline and the country," Mr. Fernando said and added that in addition SriLankan would rearrange its routes and lay off excess staff with a reasonable compensation.
"The new board of directors has already discussed contentious issues that is bleeding the national carrier. Our main concern is to renegotiate the purchasing, leasing and termination agreements in a way that would not be a burden to the country and the airline. SriLankan incurs a loss of some US$100 million or Rs.15 billion) annually which is a huge burden," Mr. Fernando said. "Our other objective is to bring SriLankan to a break-even point which will be a major relief to the economy, to the airline and to the employees. I expect the board members and the management team would get the maximum possible cooperation and blessings of employees, the government and the people to make our endeavour a success."
Meanwhile, SriLankan airlines has achieved a record annual passenger revenue of Rs.126.9 billion or US$ 830.7 million for the financial year 2017/18 which is the highest ever in the airline's 38-year history.
The revenue comes on the aftermath of the expansion of the airline to include services to several new destinations such as Gan Islands, Hyderabad and Melbourne and additional frequencies to popular cities in its network.
The airline's cargo division has also recorded a spectacular performance, achieving a revenue of Rs.14.7 billion. Both passenger and cargo divisions exceeded their annual target, enabling the SriLankan airlines to be bolstered by an even stronger performance at its best performing business unit SriLankan Ground Services – to comfortably exceed the overall annual revenue target.
The overall Group turnover exceeded one billion US$ making SriLankan one of the handful of companies in Sri Lanka to reach this milestone. It also becomes the highest revenue generating company amongst all Sri Lankan businesses which publicly report their financials.
The re-structuring process including the termination of the lease agreement has been delayed because of differences between the lessee and leaser. SriLankan has recorded a loss of Rs.107 billion within eight years after terminating the management agreement with Emirates.
The new board of directors of SriLankan comprise Ranjith Fernando, a veteran banker and a public servant as Chairman with the other members being Mano Tittawella, Susantha Katugampala, Dr. Roshen Perera, and Air Marshal Kapila Jayampathy. (Sandun A Jayasekera)