---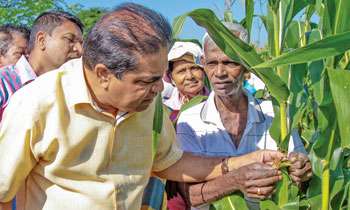 Agriculture Minister P. Harrison said today the spreading of 'fall armyworm' (Sena Dalambuwa) among food crops was not an act of sabotage.
He told a media conference that the allegation the government had infected the crops with fall armyworm to help the pesticide supplying companies to market their products was false.
"This pest was first detected when MP Mahinda Amaraweera was the Agriculture Minister. Therefore, those who accuse us of committing an act of sabotage should question Mr. Amaraweera. Who would want the country's agriculture industry destroyed? The spreading of fall armyworm is an issue to the whole of South Asian and African regions. It is visible in some parts of America as well. This is not a species that had been bred artificially. The only solution discovered so far has not been proved effective as what is done under it is driving away the worm. Such an attempt is not an effective solution as the pest could get to adjoining plantations. It could move 80 metres overnight," he said.
He said the government had decided to go for a national programme to destroy the pest and save the crops. "We will go for a two-week programme to enlighten farmers on the issue," he said. (Yohan Perera)