---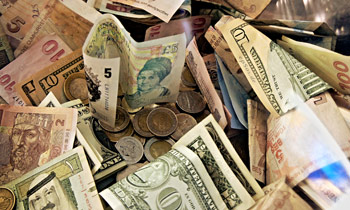 Sri Lanka would overcome its foreign currency payment, which will reach a staggering USD 4.08 bn (About Rs.560 bn) by end of this year, USD 5.7 bn (Rs.570 bn) by end 2018, through Samurai Bonds and by swapping of debts, Prime Minister Ranil Wickremesinghe said yesterday.
A samurai bond is a yen-denominated bond issued in Tokyo by non-Japanese companies, and is subject to Japanese regulations.
Speaking at the opening of 20 housing units for the landslide victims of Aranayake yesterday morning the Prime Minister said revenue from Samurai bonds and swapping of Hambantota Port debt against a stake would help the country to reduce the debt services by end 2017.
"Some have filed court cases against the signing of Hambantota Port Agreement without considering the country's situation," Mr. Wickremesinghe said.
"If we do not pay our loans, the foreign debt services alone will rise by trillions of dollars by the year 2025," he added.
He said the country would face this situation irrespective of domestic debt services. Domestic debt services by end 2017 would rise to Rs. 794 bn and to Rs 959 bn by end 2018.
"We will have to put the economy on the right track, while concentrating on reconciliation and power sharing," he said.
He said only reconciliation and a stable economy would help the Government to create employment.
"We have to generate employment especially in the North. The original grievance of the Northern and Eastern youth was unemployment and the failure of the respective Governments resulted in the war. This war pushed Sri Lanka back so much that only Laos and Cambodia were lagging behind Sri Lanka. If we fail to generate employment now both Cambodia and Laos would also will beat us," he further said.
Mr. Wickremesinghe also stressed the importance of reconstructing disaster affected areas.
"The Unity Government of the two main political parties helped quick reconstruction of Aranayake. Lack of unity among the political parties made the post-tsunami reconstruction lag for many years," he said.
Minister of Power and Renewable Energy Ranjith Siyambalapitiya said there was much to be done when it came landslide reconstruction in Kegalle.
He said government was faced with a task of finding land for 2,000 families.
Minister of State Enterprises Development Kabir Hashim said the Government had done much when it came to reconstruction of the landslide areas, though no publicity was given. He said all these work was done with the joint effort of all politicians, government officials and religious leaders in the area. (Yohan Perera)