---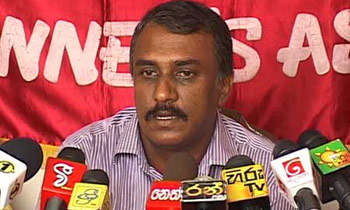 The Lanka Private Bus Owners' Association (LPBOA) and the Sri Lanka Transport Board (SLTB) Service today said they would not participate in tomorrow's trade union strike launched by the Government Medical Officers' Association (GMOA).
LPBOA chairman Gemumu Wijerathne told journalists that there was no need to support the doctors because they never supported any other organizations and most of the time they used to criticize bus drivers and conductors.
Mr. Wijerathne advised the public to not to trust mafia strikers like GMOA and there was no need to fear of any bus shortages.
"As a private bus association, we will support the GMOA strike if the GMOA agrees to three conditions proposed by us. The doctors should stop their private practice, should provide ten year continuous service in the government sector and should not appoint doctors with foreign medical degrees to the government service," Mr. Wijerathne said.
If GMOA agrees to these three conditions the LPBOA will definitely support their strike.
"Even the President Maithripala Sirisena issued a notice about the government's status about SAITM. The doctors' union is trying to go beyond the president's decision," he said.
While addressing media Sri Lanka Transport Board Trade Union Federation Secretary Ranjith Wijesiri said that they also decided not to support today's GMOA strike.
"Every SLTB employee will be on duty," he said.
Meanwhile, Inter Provincial Private Bus Association (IPPBA) President Sarath Vijitha Kumara said that would support the GMOA strike by hoisting black flags on buses but will not stop their service. (Chaturanga Pradeep)