---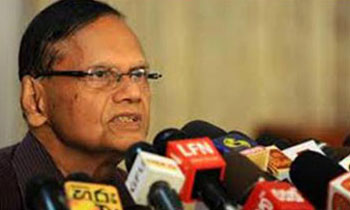 Sri Lanka Podujana Peramuna (SLPP) said today it was unreservedly opposed to the proposed move to bring a new Constitution as it would create more problems rather than solving the existing ones.
SLPP Chairman Prof. G.L. Peiris told the Daily Mirror that he called on the Mahanayake Theras of Asgiriya and Malwatte Chapters during the weekend and briefed his party's position.
He said the SLPP would oppose the new Constitution both in and outside parliament.
He said the MPs had no idea about the contents of the Constitution, and even the UNP backbenchers were asking about the meaning of the word 'Orumiththa Nadu' used to refer to it in Tamil. "It was thrust upon the MPs without any preparation," he said.
He said it was the Tamil National Alliance (TNA) that wanted a new Constitution. He charged that the government had been beholden to the agenda of the TNA.
"The TNA controls the government. Without the TNA's support, the government cannot pass even the budget," he said.
Video by Sanjeewa