---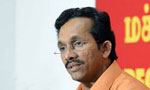 Parliamentary Committee on Public Enterprises (COPE) Chairman Sunil Handunnetti said an institution has been set up under the name Sri Lanka Cricket Aid Guarantee Company Limited with a capital of Rs.15 million belonging to Sri Lanka Cricket (SLC).
He said this institution had been made up of life-members and it was illegal to invest funds belonging to the SLC to set up such an institution.
The objective of the company is to raise money from the sale of tickets to foreign countries.
Mr. Handunnetti said parliament should have been informed of such investments and its financial activities should be subjected to an audit. (Dayaseeli Liyanage)