---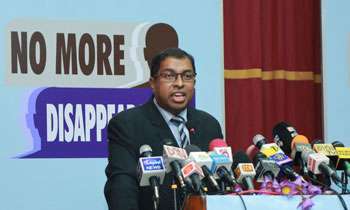 Accepting the fact that enforced disappearances had occurred in the country for at least four decades is the only way Sri Lanka can achieve reconciliation, OMP Chairman Saliya Pieris PC said yesterday.
He expressed this at an event held under the theme 'No more disappearances' to mark the International Day of the Enforced Disappearances at the J. R. Jayawardene Centre in Colombo.
"If we speak of the numbers of missing in Sri Lanka, it is one of the highest not only in Asia but also in the world. We have to accept that people had been forcibly disappeared for at least four decades. Accepting this is the only way to achieve reconciliation," Mr. Peiris said.
However, he said there are some elements who are still unwilling to accept that incidents of enforced disappearances had taken place in the country.
"For some, still, the perpetrators who are responsible for making people disappeared are heroes and the victims are traitors," he said. (By Lahiru Pothmulla)