---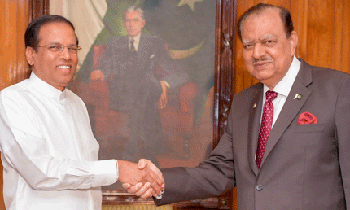 Pakistani President Mamnoon Hussain said that tour of Sri Lanka President Maithripala Sirisena to Pakistan will pave the way to further consolidate foreign, defence, trade and investment ties between the two countries.
The Sri Lanka's President's Media division said that leaders of Sri Lanka and Pakistan pledged to move forward joining hands in brotherhood in achieving economic prosperity while further strengthening the long standing bilateral relations between Sri Lanka and Pakistan.
President Sirisena who is on an official visit to Pakistan met with Pakistani President Mamnoon Hussain today (24) and during that meeting both leaders agreed on this.
The Pakistani President thanked President Maithripala Sirisena for accepting the invitation to attend the Pakistan Republic Day Celebrations as the Chief Guest and further said that the President's participation was a great honour to the country.
President Mamnoon Hussain accedes the request made by President Sirisena to increase the scholarships and training opportunities given to Sri Lanka and he promised to fulfill this request in the future.
The Heads of States discussed in detail regarding the need of stand against world terrorism and the President appreciated the assistance given to Sri Lanka by Pakistan in fight against terrorism during the last war period.
President Sirisena also commended the support given to Sri Lanka by Pakistan at the United Nations Human Rights Sessions.

The Pakistan President requested Sri Lankan President to consider Pakistan as a brotherhood nation as it always willing to extend support to Sri Lanka and further requested to provide support of Sri Lanka to hold next SARRC summit in Pakistan.