---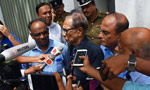 The Kashmir Study Forum Sri Lanka along with Pakistani and Sri Lankan community organized a peaceful demonstration outside the United Nation Office in Colombo today to highlight the recent violent incidences in Kashmir.
The peaceful assembly was attended by people from all walks of life. The participants urged the UN Secretary General to encourage, facilitate and support efforts leading to a peaceful resolution of the Kashmir issue in accordance with the UN Security Council Resolutions to ensure resolution of this longstanding issue.
Issuing a statement, the Pakistan High Commission said the Kashmir dispute has emerged as one of the greatest and oldest human crises in history which is marked by killings, rape, detention, and kidnapping of Kashmiris.
"The participants also urged the UN for immediate end of laws such as Terrorist and Disruptive Activities (TADA), Jammu & Kashmir Public Safety Act 1978, The Armed Forces (Jammu & Kashmir) Special Power Act 1990, Jammu & Kashmir Disturbed Area Act 1990, Prevention of Terrorism Act (POTA) 2002 and Article 370," it said.
A memorandum with thousands of signatures urging UN to play its role to resolve the oldest unresolved dispute on UN agenda since 1947 was also handed over to the UN office.
The statement said a signature campaign was also launched across Sri Lanka to raise awareness, encourage advocacy and to emphasize the centrality of the resolution of Kashmir Issue to the lasting peace and prosperity of South Asia.