---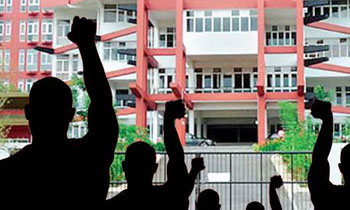 Deans of medical faculties of eight universities have written to Higher Education Minister Lakshman Kiriella outlining suggestions to resolve the issue involving the South Asian Institute of Technology and Medicine (SAITM) in Malabe and the standards of the medical education in the country.
While stressing the need to mete out justice to the students currently studying at SAITM, the deans of the medical faculties of Colombo, Ragama, Karapitiya, Rajrata, Batticaloa, Jaffna, Peradeniya and Sri Jayawardenepura universities have pointed out that the Sri Lanka Medical Council (SLMC) has to be the authorized institution that would decide the standards of medical doctors and that its independence had to be safeguarded.
They have also said that it was imperative for the Health Minister to present the minimum standards prepared by the SLMC for medical colleges in Sri Lanka in the Parliament for them to be legalized. There must be a programme for the current students of the SAITM to obtain another few month's proper clinical training and the SLMC should conduct an examination in order to gauge the level of their knowledge thereafter, the medical faculty heads have suggested.
Those who would be successful in that examination should be provisionally registered with the SLMC so that they can carry on their internship training, the letter further stated.
However, the deans were of the view that enrollment of new students to SAITM should be temporarily suspended until the issue involving the private medical college is resolved.
They have expressed their fear on the possible damage that could be caused to the National Nurses Council and other such institutions in the medical field in case of independence of the SLMC being harmed in any manner.
Professor Jenifer Perera (Colombo), Professor Vajira Weerasinghe (Peradeniya), Professor Sarath Lekamwasam (Karapitiya), Dr. S.Raviraj (Jaffna), Professor Nilanthi de Silva (Ragama), Professor Surangi yasawardene (Sri Jayawardenepura), Dr. A. Arutpragasam (Batticaloa) and Professor Sisira Siribaddana (Rajarata) were the signatories of this letter.
When they met the minister at the Parliamentary complex on Wednesday to hand over the letter they had a brief discussion with the minister who had been accompanied by State Minister for Higher Education Mohan Lal Grero and Universities Grants Commission Chairman Professor Mohan de Silva. (Ranjan Kasturi)