---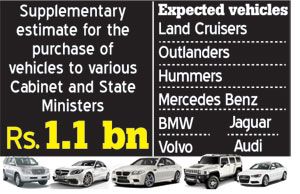 The government today sought parliamentary approval for a supplementary estimate to cover Rs. 1.1 billion for the purchase of vehicles to various cabinet and state ministers.
Among them, Rs. 7 million is for the purchase of a vehicle for the State Minister of Development Strategies and International Trade Sujeeva Senasinghe, and another Rs. 35 million for the acquisition of vehicles for the use of Irrigation and Water Resources Management Minister Vijith Wijayamuni de Zoysa. For the same purpose of Justice Ministry, Rs. 70 million has been spent.
The estimate also sought approval to cover expenses made for various other requirements of the government.
Of these expenses, the government seeks approval to release Rs. 17 million for the construction of a building attached to the official residence of former President Chandrika Kumaratunga. Another Rs. 13 million is sought to reimburse the consultation fee of the restructure plan of SriLankan Airlines.
For the payment of lease and advances in view of the buildings to house the Regional Development Ministry, Rs.327 million is sought.
For the acceleration of resettlement in the North and the East, Rs. 3 billion has been sought under the expenditure head of the subject ministry. Another Rs. 3.5 billion is mentioned in the estimate as expense for the programme aimed at promoting food security in the country under the Agriculture Ministry. (Kelum Bandara and Yohan Perera)

Name
Amount
Acquisition of a vehicle for Minster of Regional Development-Sarath Fonseka
Rs. 70 million

Acquisition of a vehicle for Minister of Petroleum Resources Development-Chandima Weerakkody

Acquisition of a vehicle for Deputy Minister of Petroleum Resources Development-Anoma Gamage

Rs. 70 million

Acquisition of two vehicles for Minister of Home Affairs-Wajira Abeywardana

Acquisition of a vehicle for Deputy Minister of Home Affairs-Nimal Lanza

Rs. 90.9 million
Acquisition of two vehicles for Minister of Skills Development and Vocational Training-Mahinda Samarasinghe
Rs. 50 million

Acquisition of a vehicle for Minister of Telecommunication and Digital Infrastructure-Harin Fernando

Acquisition of two vehicles for Deputy Minister of Telecommunication and Digital Infrastructure-Tharanath Basnayake

Rs. 90.1 million
Acquisition of a vehicle for Deputy Minister of Megapolis and Western Development-Lasantha Alagiyawanna
Rs. 50.6 million
Acquisition of a vehicle for Deputy Minister of Tourism Development and Christian Religious Affairs-Arundika Fernando
Rs. 50.6 million

Acquisition of a vehicle for Minister of Disaster Management-Anura Priyadarshana Yapa

Acquisition of a vehicle for Deputy Minister of Disaster Management-Dunesh Gankanda

Rs. 60.3 million
Acquisition of a vehicle for Deputy Minister of Foreign Employment-Manusha Nanayakkara
Rs. 20.8 million
Acquisition of two vehicles for State Minister of International Trade-Sujeewa Senasinghe
Rs. 30.5 million
Acquisition of a vehicle for Minister of City Planning and Water Supply-Rauff Hakeem
Rs. 30.5 million
Acquisition of a vehicle for Deputy Minister of Housing and Construction-Indika Bandaranayake
Rs. 20.8 million
Acquisition of a vehicle for State Minister of Industry and Commerce Affairs-A.D. Premadasa
Rs. 30.5 million
Acquisition of a vehicle for Minister of Special Assignment-Sarath Amunugama
Rs. 30.5 million
Acquisition of a vehicle for Deputy Minister of Public Administration and Management- Susantha Punchinilame
Rs. 20.75 million
Acquisition of a vehicle for State Minister of Lands-T.B. Ekanayake
Rs. 30.5 million

Acquisition of a vehicle for Minister of Sustainable Development and Wildlife-Gamini Jayawickrama Perera

Acquisition of a vehicle for Deputy Minister of Sustainable Development and Wildlife-Sumedha G. Jayasena

Rs. 70 million
Acquisition of a vehicle for Minister of Power and Renewable Energy-Ranjith Siyambalapitiya
Rs. 30.5 million
Acquisition of a vehicle for Minister of Upcountry New Villages, and Estate Infrastructure and Community Development-Palani Digambaran
Rs. 30.5 million
Acquisition of a vehicle for State Minister of Irrigation and Water Resources Management-Vasantha Senanayake
Rs. 30.5 million

Acquisition of a vehicle for Minister of Justice and Minister of Buddhasasana-Wijeyadasa Rajapakshe

Acquisition of a vehicle for Deputy Minister of Justice and Minister of Buddhasasana-Dushmanth Mithrapala

Rs. 70 million

Acquisition of a vehicle for Minister of Prisons Reforms, Rehabilitation, Resettlement and Hindu Religious Affairs-D.M. Swaminathan

Acquisition of a vehicle for State Minister of Prisons Reforms, Rehabilitation, Resettlement and Hindu Religious Affairs-Priyankara Jayaratne

Rs. 70 million
Acquisition of a vehicle for Minister of Irrigation and Water Resources Management-Vijith Wijayamuni
Rs. 30.5 million