---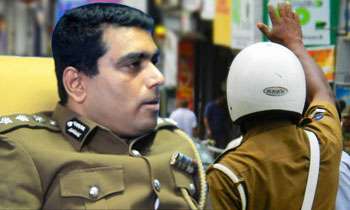 Traffic Police DIG Ajith Rohana requested the public not to hesitate to record and send audio or video clips taken from mobile phones on incidents involving activities of traffic police officers who seek bribe or other favours.
Speaking to the Daily Mirror he said several complaints had been received by the Police Department regarding bribe and corruption charges involving traffic police officers.
It is true that a few police officers are engaged in such activities and the Department is blamed, he said.
However, the Department needs to wipe out such malpractices by traffic police officers.
He also said people have every right to get a video or an audio recording of traffic police officers involved in illegal activities on the road.
"Don't be hesitant to record what they do. If you are in the middle of a discussion with an officer and you can't video record the conversation, at least leave the audio record on," he said.
With the help of such video and audio evidence, it could be used to prevent such misbehaviours of the traffic police officers on duty and would help us to take legal actions based on that.
He said, with this request the police department hopes to provide the best service while preventing illegal activities of the police officers.
"I understand that there are many people who travel without mobile phones and digital devices. So, digital evidence is not always required to initiate action against errant officers. Even if a citizen lodges a normal complaint, we can proceed with the action. But, the public must make use of technology whenever it's available. It makes to conduct police operations easier," DIG Rohana said.
DIG Ajith Rohana also requested the people to send their evidence either audio or video clips via email to dig.traffic@police.lk
It is what people should keep in mind taking and giving bribes is a punishable offence under the Sri Lankan Act. And keep in mind to not to give bribes to police officers after doing anything illegal.
He also said that the traffic police officers can also record such activities and emailed them to the above email address.
It is obvious that objections would be raised when a person attempts to get a recording from their mobile phone. In such a situation, any other person along with them can take the opportunity. Taking a video or audio recording is not an offence.
If a person feels that the police officer may have a chance to request a bribe while giving the charge sheet, he or she can switch on the audio recording in his mobile phones. (Chaturanga Samarawickrama)