---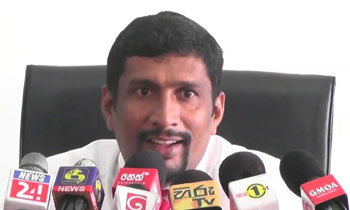 While stating that the Government Medical Officers' Association (GMOA) had no intention of entering into politics as per the claims made by Minister Rajitha Senaratne, the GMOA yesterday said that ministers such as Rajitha Senaratne must be sent home.
GMOA Assistant Secretary Dr. Naveen de Soyza told a news conference that Minister Senaratne had recently claimed that a member of the GMOA had been included in the district nomination lists in all districts with the hope of returning 25 GMOA members as law makers in the next Parliament.
Rejecting these claims, Dr.Soyza said that the GMOA was keen on following their policies even though Minister Senaratne does not have any. "There is no need for doctors to engage in politics or enter Parliament, but the necessity here is to keep away politicians such as Minister Senaratne from politics. Such ministers should be sent home," he added.
Referring to the claims made by Minister Senaratne that the students attached to state medical faculties had attended to lectures by going against the stance of the GMOA, Dr. Soyza said that the actions of the students were taken in accordance with the decision of their student unions.
He said that the GMOA was just making the students aware of the ongoing procedure on the of SAITM issue and added that the association was not involved in any kind of decision making process of the university students. (Kalathma Jayawardhane)
Video by Sanjeewa