---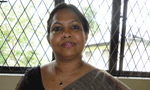 Karapitiya Teaching Hospital's Consultant Psychiatrist Dr. Ramani Ratnaweera said yesterday the worldwide medical specialists in psychiatry had urged that addiction to the internet be classified as a mental disorder.
She highlighted the fact that modern technology was an integral part of education in the world, but addiction to the internet could affect one's mental health.
Dr. Ratnaweera told the media that children were often subjected to stress when preparing for an examination and that it was the duty of parents and the teachers to create an atmosphere where they would be better able to face the challenges while avoiding the stress caused by competition.
"However, it is unfortunate that the children are encouraged to use the internet as an integral part of their education. This has resulted in the children falling prey to internet-addiction which leads to mental disorders. It is an accepted fact that modern technology should be used for education, but it can bring about a negative effect with regard to their mental health. Addiction to the internet would cause irreparable damage to the cerebral nervous system just as in the case of addiction to narcotics and liquor. We have received evidence that many children use the internet, especially social websites even while neglecting their normal studies. They are bound to end up as victims of stress, mental and physical disorders including back pain and nervousness. Therefore, medical specialists all over the world have considered the inclusion of internet-addiction as a mental disorder," Dr. Ratnaweera said. (D. Sugathapala and Sumathipala Diyagahage)