---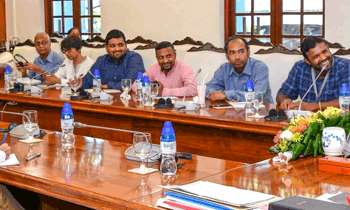 President Maithripala Sirisena told the foreign media today that he would appoint yet another Presidential Commission to probe corruption and frauds during the past three and half years of the UNP-led government, as he did with regard to the Central Bank bond scam.
According to a statement issued by his office, he said such a process would expose new cases of corruption and fraud in the last three and a half years.
The President had reasserted that he would not reappoint UNP leader Ranil Wickremesinghe as the Prime Minister under any circumstance. He said he acted well in accordance with the Constitution in the removal of the former Prime Minister, the appointment of the new Prime Minister, dissolution of Parliament and prorogation of the House.
He told media personnel that he had intended to follow principles of clean politics after the presidential election in 2015, but the UNP disrupted the process by committing the Central Bank bond fraud within the first three months it was in power.
The statement said the President was not ready to govern the country with those who conspired to assassinate him. He said it was not appropriate to adopt a voice vote in Parliament with regard to a motion aimed at unseating the government. Instead, he said Parliament should follow the procedure of division by name or electronic voting for this purpose.