---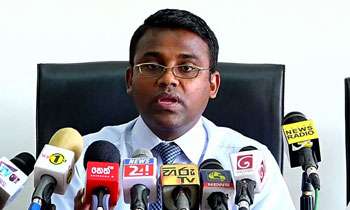 President Maithripala Sirisena had agreed to appoint an economic committee headed by Chief Economist Prof. Lalith Samarakoon to look into the Free Trade Agreement (FTA) inked with Singapore, the Government Medical Officers' Association (GMOA) today said.
GMOA Spokesman Dr Samantha Ananda told the Daily Mirror that President Sirisena had guaranteed to appoint said committee during a discussion held on Tuesday with the GMOA-membership over the FTA with Singapore.
The FTA ran into a storm after the GMOA protested against it and created a controversy.
"Accordingly, the economic committee is expected to look into this matter and the parties concerned can submit their views to this committee.
"President Sirisena has also assured to revoke the FTA if it would be proven detrimental to the country following the findings of the committee," he said.
He said the GMOA had also stressed the need to get such trade agreements approved by people through a referendum and added that obtaining the two-thirds majority in Parliament would not suffice to enter into such agreements.
He also said the country should have a National Policy on International Trade agreements prior to entering into such FTAs.
"We have informed President Sirisena that the opinion of the professional bodies including the lawyers and engineers have not been taken before entering into the FTA with Singapore despite it being an agreement to open the Service Sector of the country to the world," he said.
He said Development Strategies and International Trade Ministry Secretary Chandani Wijewardana, who was also a party to the discussion, had revealed that steps had been taken to enter into few more trade agreements with Thailand, Indonesia and Malaysia. (Kalathma Jayawardhane)