---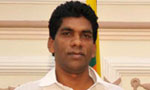 National Workers Congress Leader and Estate Infrastructure Development Minister P Digambaram yesterday said President Maithripala Sirisena should consult government politicians representing the estate sector before giving any ministerial posts to Arumugam Thondaman who is tipped to crossover to the government.
" There is a moral obligation for the President to consult us before making a decision to take Mr Thondaman to the government fold as it was we who worked for him at the presidential elections. Mr Thondaman is a person who told the estate people not to vote for Mr. Sirisena," Mr Digambaram said.
Mr Digambaram told the Daily Mirror that they are not opposing Mr Thondaman's crossover to the government but only highlighting the point that he and the others such as Minister Mano Ganesan should be consulted before making a decision on Mr. Thondaman.
Mr Thondaman is expected to crossover to the government soon. (Yohan Perera)