---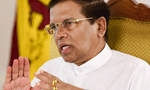 Freedom of religion had been ensured in Sri Lanka, President Maithripala Sirisena at a religious ceremony held at Raddolugama Methodist Church this morning.
He said that Sri Lanka had been able to ensure the right that supports the freedom of individuals to follow any religion as spiritual concept was what assisted people to become disciplined and well-behaved.
However, President went on to say that despite the obvious physical development in the world, people's spiritual dimensions had sadly collapsed.