---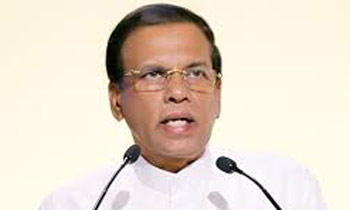 Sri Lankan President Maithripala Sirisena yesterday called for the worldwide banning of firearms highlighting that it is the main cause for conflicts around the globe in the current scenario.
The President made this point at the opening of the International Islamic Conference organized by the Sri Lanka Islamic Centre and the Saudi Arabian Ministry of Islamic Affairs D'awath in Colombo last morning.
"In my opinion we will be able to build a conflict-free world if the manufacturers of firearms take up a different line of business to earn a living. It is the manufacturers of firearms that should be brought to the negotiating table," he said.
Besides, he said the solutions to world's conflicts should come through those who strive to uphold moral values and not from the politicians. "Any sacred writings, be it the Tripitaka, Bible, Quran or the Bagawath Geetha teach the mankind how to uphold moral values and live a peaceful lives. It is these teachings which could bring solutions to the global conflicts," the President said.
Focusing on the Sri Lankan scenario, he said it was sad that leaders of all ethnic groups in this country who struggled together to gain independence from Britain had got into conflicts with each other after gaining independence in 1948. The President therefore called for the support of Islamic religious leaders who participated in the conference to support the government's efforts to bring in peace and reconciliation.
Speaker Karu Jayasuriya said the efforts of Islamic leaders who participated in the conference was important in resolving the tension that had arisen in the world today. He said the theme of the conference' Islamic Reality and Contemporary challenges' was very valuable. Further he told the international Islamic leaders that Sri Lanka was a multi religious and multi ethnic country which respect each other.
Posts and Muslim Religious Affairs Minister M H A Haleem and state Minister A H M Fowze who also spoke at the conference stressed that Islamic leaders would have to counter the Islamophobia that is prevailing in the globe which has emerged as a result of false ideologies on Islam. (Yohan Perera)