---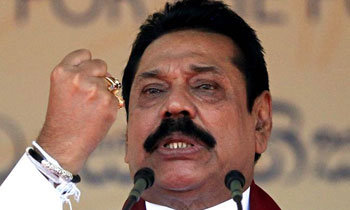 Former President Mahinda Rajapaksa said today it was President Maithripala Sirisena, who brought him back to politics whereas he had decided to retire from politics.
"I was going to retire from politics and take a rest. But President Sirisena brought me back to politics," he said.
Mr. Rajapaksa said the Joint Opposition members Wimal Weerawansa, Dinesh Gunawardane and Vasudewa Nanayakkara during a meeting held at Nugegoda sometime ago forced him to return to active politics and not to retire.
Addressing a rally organised by the Joint Opposition in Nugegoda, he said the government was drafting a Constitution which would divide the country and betray the historic war victory.
"The leaders and people have a responsibility to safeguard the historic victory we achieved. People gathered here urged the government to give up this new Constitution," he said.
He said what the government had promised was not to divide the country but to bestow the executive powers on the Parliament. "The government has neglected its promise and trying to bring in a deceitful Constitution instead. That is what we are opposed to," he said.
Mr. Rajapaksa said he accepted that there was an issue in the country and added that they invited the government to resolve it but it rejected their invitation due to the influence by the international community. "The international community forced the government not to deal with me as I did not bow down to them and I said and did what I wanted," he said.
He said the government had put the country in a debt trap and added that it had done nothing from the loans obtained.
"There is noting the government has done from the loans obtained. It claims that the loans were obtained to repay the loans. But it is an utter lie. We had obtained long term loans. They are selling State institutions, lands and ports. We warn the people who purchase these State property to be careful. Those who plundered billions of rupees from the Central Bank scam are trying to launch TV channels, newspapers and banks. We warn them and we will seize all the money defrauded as soon as we came to power," he said.
The former President said the GSP+ facility was removed during his tenure as the per capita income was increased in the country and added that the present government was going to embrace the GSP+ facility when other countries were leaving it due to the conditions imposed. "We urge the government not to destroy our culture and tradition by agreeing to disastrous conditions. It is a clear indication as where this government is heading to," he said.
Prof. G.L. Peiris said it was a ploy of the SLFP to invite the Joint Opposition members to join it and added that they would not get caught to it.
Several JO parliamentarians, including Gamini Lokuge, Mahindananda Aluthgamage, Udhaya Gammanpila and Vasudewa Nanayakkara addressed the rally. (Ajith Siriwardana)