---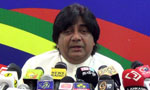 Prime Minister Ranil Wickremesinghe will contest at the next presidential election if President Maithripala Sirisena does not contest for a second term, SLFP Spokesman Dilan Perera said today.
"While taking oaths as the sixth executive president of Sri Lanka, President Sirisena had vowed not to contest for a second term. If he does not contest the presidency for a second term we will have to find another candidate to contest in his place," he said.
Mr. Perera said two ministers from the United National Party (UNP) had mentioned Prime Minister Ranil Wickremesinghe's name to the media as the next presidential candidate.
"With the 19th Amendment to the Constitution being now operative, former Presidents Chandrika Bandaranaike Kumaratunga and Mahinda Rajapaksa are not qualified to do so," he said.
Mr. Perera said there were no any legal barriers for President Maithripala Sirisena to contest the presidential election.
"For this purpose we should strengthen the SLFP," he said. (Chaturanga Pradeep)