---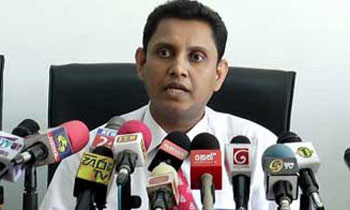 The Police attack on anti-SAITM protesters on Tuesday was a violation of Human Rights, the Government Medical Officers' Association (GMOA) said today.
While condemning Tuesday's Police attack on anti-SAITM protesters, GMOA Secretary Dr. Haritha Aluthge told a news conference that the incident could be regarded as a serious issue.
"We have witnessed how the authorities have attempted to control anti-SAITM protests by State University students, with the use of water cannons, tear gas and in several other ways," he added.
He said it was necessary to reveal who made orders to attack these protesting students in such a way.
He also said that the GMOA would be forced to take stern trade union actions in future if authorities continued to delay providing a reasonable solution to the SAITM issue.
Meanwhile, the Medical Faculty Students' Parents' Association (MFSPA) also condemned the attack on anti-SAITM protesting university students by the Police on Tuesday.
MFPSA Media Spokesman Dr. Nimal Karunasiri told a news conference that it would lodge complaint with Human Rights organizations at international level, against the attack.
He also claimed that tear gas that was fired to disperse protesting students was "expires".
"We will be forced to resort to fast unto death protest, if the authorities did not provide us with a reasonable solution to the SAITM issue. We are ready to sacrifice our lives to obtain justice for our children," he added.(Kalathma Jayawardhane)
Video by Sanjeewa