---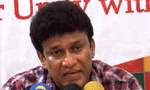 National Co-existence, Dialogue and Official Languages Minister Mano Ganesan said today that people in the North could celebrate Maaveerar Naal (Heroes Day) without mentioning the name of the LTTE, as it was a proscribed organisation.
Minister Ganesan said it was a human right for people to be able to celebrate their late loved ones, but added that it was wrong to do it with a political motive.
He said the Janatha Vimukthi Peramuna (JVP) also celebrate Il Maha Viru Samaruwa in the South to commemorate their heroes.
"They can do so as they are not a proscribed organisation anymore. But People in the North cannot use the name of the LTTE to commemorate their loved ones as it is a proscribed organisation," he said. (Ajith Sriwardana and Indika Sri Aravinda)
Video by Indika Sri Aravinda