---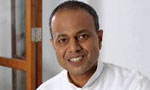 The Jana Satana Paada Yathrawa organised by the joint opposition will not break the historic partnership between the Sri Lanka Freedom Party led by President Maithripala Sirisena and the United National Party led by Prime Minister Ranil Wickremesinghe, said Law and Order and Southern Development Minister Sagala Ratnayaka yesterday.
Issuing a statement, the minister said:
"If at all, the march is an effort to destroy the marriage that took place on January 8, 2015 between the people of the country and the idea of democracy.
"As far as we are concerned this is nothing more than a political gimmick by a bunch of crooks. Their followers will realise soon enough that this is not about the nation or the people but an act of desperation on the part of a few individuals who are being prosecuted for multiple infringements of the law, including financial crimes and murder.
"However, in line with the promises we have made to the people of this country, we will continue to uphold the principles of democracy; in this case the right to protest. In fact the government will do its best to provide the maximum security possible to those who take part in this protest, meaningless though it is and misled though the protesters are.
"Unlike during the previous regime, there won't be hooligans and thugs disrupting this march. There won't be baton-charging and there won't be water cannon. There won't be tear gas.
"Having said that, we would like to remind the organisers of this protest that a healthy democracy also includes the rule of law. No protest, however justifiable, warrants the breaking of the law. Just as much as we are mandated to uphold the principles of democracy, so too are we obliged to ensure that the rule of law is not compromised."