---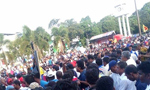 The Jana Satana Paada Yathrawa of the Joint Opposition arrived at the Hyde Park Ground today despite impromptu renovations carried out on the ground by the Colombo Municipality.
The municipality had deployed several backhoes at the ground this morning. Meanwhile, the Police informed former president Mahinda Rajapaksa that they could conduct the rally at the Campbell Park Grounds in Borella.
The Police proving a letter to the former President at the Abayaramaya temple informed him that they had made arrangements to facilitate the rally at Campbell Park.
However, the procession reached the Hyde Park ground instead and later on moved towards the Lipton Circus where the final rally was held.