---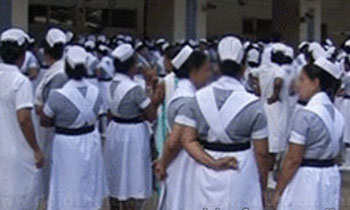 Colombo National Hospital Director Dr. Anil Jasinghe said today the token strike launched by the Public Services United Nurses' Union (PSUNU) has not affected the healthcare services at the Colombo National Hospital.
The trade union action was launched today morning to urge the government to resolve the concerns of the members including salary anomalies.
Dr. Jasinghe said out of about 820 nursing staff assigned for the morning shift more than 620 reported for duty.
"Although there was a slight shortage of nurses in the operating theaters, the impact was minimal," he said.
PSUNU Chairman the Ven. Muruththettuwe Ananda Thera claimed that the strike was successful with the participation of a large number of members. He rejected the statement made by the Dr. Jasinghe and said he had no knowledge about the staff.
"Dr. Jasinghe is making statements without a check on the wards. He is not aware of the shortage because he doesn't visit the wards," the Thera said.
Expressing his views on the PSUNU strike, the Government Nursing Officers' Association (GNOA) President Saman Rathnapriya said the strike was utterly unsuccessful.
"The PSUNU has about 8,000 members. Of them 80 to 85 per cent reported to work. Base Hospitals and Teaching Hospitals in Colombo, Kalutara, Ratnapura, Kandy, Karapitiya, Batticaloa and several others were functioning more or less normally," GNOA said.
The Government Medical Officers' Association (GMOA) rejected Mr. Ratnapriya's statement that it had backed the TU action.
Meanwhile, Health Ministry Deputy Director General (Admin II) Mr. Rahuman said the the TU action had not affected the daily operations, however, the ministry had forwarded the PSUNU demands to the Cabinet.
"The Cabinet has referred the matter to the National Salaries and Cadres Commission. We will do our best to resolve their concerns," he said.
However, commenting on the strike Health Minister Rajitha Senaratne said that the token strike launched by the PSUNU was not successful and he received information that some principals of the nurses' Teaching colleges have forced their students to join the protest and but failed.
He said the unions' demand to start the public health service had already been initiated. Minister Senaratne also said by now Rs. 200 million funds had been allocated to complete the shortcomings and the rest could be resolved through discussions.
Meanwhile, the minister said PSUNU leader Ven. Muruththettuwe Ananda Thera had become helpless and had launched the most unsuccessful trade union action.
The token strike is expected to end tomorrow morning. (Thilanka Kanakarathna)