---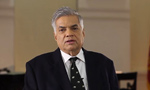 The full statement by the Prime Minister on the Supreme Court decision on VAT, NBT follows;
On 11 July 2016, the Supreme Court of the Democratic Socialist Republic of Sri Lanka has issued an interim order preventing the implementation of the recent revisions made to the Value Added Tax (VAT) and the Nation Building Tax (NBT) until the relevant legislation is passed by the Parliament.
This interim order is not expected to have any adverse impact on the government's revenue collection. The VAT (Amendment) Bill has already been presented to the Parliament for the first reading on 08 July 2016, and the second reading is expected on 23 July 2016.
The Unity government, which has a clear majority in the Parliament, expects the legislative process to be completed before the end of the month of July 2016. Thereafter, the revised rates will be applicable with effect from 02 May 2016.
July 11, 2016