---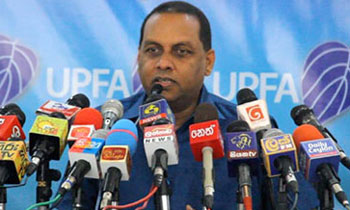 A total of 2,000 buses had been reserved to transport Sri Lanka Freedom Party (SLFP) supporters to the party's May Day rally scheduled to be held at Getambe, in Kandy, the SLFP announced today.
Addressing the weekly SLFP news briefing Minister Mahinda Amaraweera said the passenger buses were reserved from both the Sri Lanka Transport Board (SLTB) and the private sector on rent basis and assured no State transport service or funds were abused for the SLFP rally.
Meanwhile, he said the SLFP Youth Front had reserved a Kandy bound train from Colombo Fort to transport supporters.
He said more than 20 constituencies of the United People's Freedom Alliance (UPFA) were scheduled to attend the rally apart from thousands of Tamil and Muslim supporters from the North and East.
He said the SLFP rally would be held in an exemplary manner to other parties, especially without harming the Kandyan pride, environment and religious places.
He also said the SLFP rally would be more colourful with the participation of SLFP Youth Front, Trade Unions and party supporters.
"This year the rally will break last year's record," he said.
He said electorate organisers had requested more buses to provide transports for SLFP supporters.
"We believe that hundreds of thousands of SLFP supporters will join with us at Getambe," he said. (Thilanka Kanakarathna)