---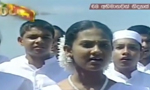 A Supreme Court Bench comprising Justices Priyasath Dep, K.T. Chitrasiri and Prasanna S. Jayawardene today refused to grant leave to proceed with the petition challenging the singing of the National Anthem in Tamil.
Petitioners Sudath Perera, Pradeep Asiri Soysa and G.A.D. Premaratne cited President Maithripala Sirisena and the Attorney General as respondents and said they it was on February 4, 2016 at the Independence Day celebration that they became aware of the national anthem being sung in Tamil.
They said it was a gross violation of Article 7 of the Constitution and it was arbitrary and capricious and crass violation of the principle of equality and of the rights of all citizens.
The petitioners said the words "Namo Namo Matha" had been substituted by "Sri Lanka Matha".
Meanwhile, two intervernient petitions were filed by Ven. Gonagala Gnanaloka Thera of the Sri Sugathamaha Viharaya in Anuradhapura and the Centre for Policy Alternatives challenging the rights petition.
They maintained that the Constitution did not stipulate that the national anthem should only be sung in Sinhala and that Article 18 and 19 of the Constitution clearly and had unambiguously stated that Sinhala and Tamil shall be the official and national languages of Sri Lanka.
The intervenient petitioners said there was no inconsistency between the Constitution and the decision to sing the national anthem in Tamil.
Manohara de Silva PC appeared for the petitioners. Viran Corea instructed by Moahan Balendra appeared for the intervenient petitioner CPA and Suren Fernando and Pulasthi Hewamanna for the intervenient petitioner Ven. Gonagala Gnanaloka Thera. Deputy Solicitor General Viraj Dayaratne appeared for the Attorney General. (S.S. Selvanayagam)