---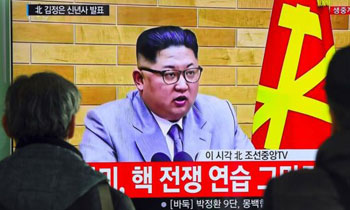 North Korea's leader Kim Jong-un has said he has a nuclear launch button on his desk at all times so the US "will never be able to start a war".
In a televised new year speech, he said the entire US was within range of North Korean nuclear weapons, adding: "This is reality, not a threat."
But he also offered a potential olive branch to South Korea, suggesting he was "open to dialogue" .
North Korea may also send a team to the Winter Olympics in Seoul, he said.
When asked by reporters to respond to Mr Kim's threats, US President Donald Trump said, "we'll see, we'll see".
He was speaking at the sidelines of New Year's Eve celebrations at his Mar-a-Lago resort in Florida.
North Korea has come under increased sanctions over the past year because of its nuclear weapons programme and repeated testing of conventional missiles.
The politically isolated state has carried out six underground nuclear tests and has demonstrated missiles of increasing power.
In November, it tested the Hwasong-15, which achieved altitudes of around 4,475km (2,780 miles) - more than 10 times the height of the International Space Station. (BBC)