---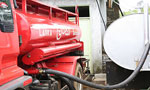 There will be no fuel shortage in any part of the country, Ceylon Petroleum Corporation (CPC) Chairman T.G. Jayasinghe said.
"Even the flood- affected areas will be provided with a sufficient stock petrol and diesel because the CPC has enough stocks in hand," he said.
Mr. Jayasinghe said the CPC will however not deliver fuel to filling stations in affected areas, mainly in Colombo and Sabaragamuwa until the situation eases.
He said discussions were underway on carrying out the cleaning of CPC filling stations were affected by the floods.
"The CPC will replace the contaminated fuel stocks with new stocks and the contaminated fuel stock will be purified and sent back to the market. There is no need to fear a fuel shortage in the country.
We have the facility to deliver the required quantities as quickly as possible. Even though floods affected the Kolonnawa refinery there has been no any harm to the stocks of fuel," Mr. Jayasinghe said. (Chaturanga Pradeep)