---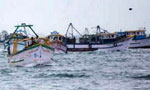 Nine Sri Lankans were arrested at Tiruchendur, Tuticorin in Tamil Nadu today for allegedly planning to travel to Australia in a clandestine manner, police said.
"The Sri Lankans who arrived in Tamil Nadu on tourist visas were tricked into believing that they could go to Australia," a top district police official told PTI.
He said they were picked up from a lodging house in the temple town of Tiruchendur by officials of "Q branch" police.
A senior Q Branch police official in Chennai confirmed the arrests. He, however, declined to disclose further information, including the foreign nationals' proposed mode of travel to Australia, stating probe was underway.
The arrest comes against the backdrop of risky boat rides in the past by Sri Lankan Tamils to reach Australia and seek asylum there.
They had tried to reach Australia from different origin points in Sri Lanka and also in India and a section of them succeeded only to be turned away by Australia for seeking asylum illegally.
Several Sri Lankan refugees living in camps in the state had been duped by unscrupulous agents into believing that a journey to Australia, in a boat, was possible.
Refugees were lured by the fake promise that asylum could be sought in Australia, where living conditions were better than India.
Australia has been warning against such ventures, saying it would not allow people taking illegal route to enter the country. (Business Standard)