---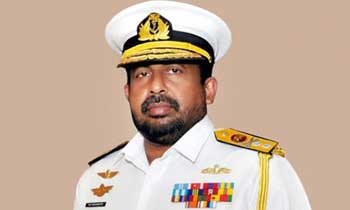 Former Navy Commander Vice-Admiral Ravindra Wijegunaratne would be promoted to the rank of Admiral and was scheduled to take over duties of the Chief Of Defence Staff (CDS) office from General Crishantha de Silva on August 22, the Navy said.
President Maithripala Sirisena appointed Vice-Admiral Ravindra Wijegunaratne as the new CDS.
The Navy said Vice Admiral Wijegunaratne would become the second Navy Chief to chair the CDS Office, which was earlier, before July 15 2007, known as the 'Joint Operations Headquarters'.
Prior to Vice-Admiral Wijegunaratne, Admiral (Rtd) Daya Sandagiri held the JOH in 2005. Vice Admiral Wijegunaratne will also be the 7th Commander from the tri-services to share this honour. The CDS is the highest ranking military officer in the Sri Lankan Armed Forces.
"Wijegunaratne was educated at the Royal College, had joined the Sri Lanka Navy as an officer cadet of the 9th Intake in November 1980 at the age of 18," the Navy said in a media release.
Last week, the President appointed Rear Admiral Travis Sinniah as the new Commander of the Navy.
The services of the newly appointed Navy Commander will be effective from August 22. (Darshana Sanjeewa)