---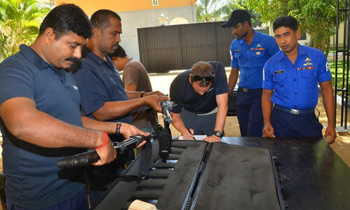 The Sri Lanka Navy, having taken over the duty of facilitating On-board Security Teams (OBST) on November 13, 2015, earned more than Rs 3.5 billion, for the Sri Lankan Government to-date, the navy said.
They said they have facilitated over 10,000 Onboard Security Team movements through the operation centres of Colombo Galle, and Hambanthota, and earned Rs. 3,510,517,197.
They said the duty undertaken by them was an extension of maritime security operations in which they get actively involved in keeping Sri Lankan waters safe and secure for maritime commons and freedom of navigation.
The facilitation of services includes; embarkation and disembarkation of On-board Security Teams, receiving, storing and issuing of weapons, ammunition and equipment registered with foreign and local On-board Security Teams who operate for merchant shipping companies.
The Sri Lanka Navy took over facilitation of OBST duties, following a special presidential directive and the earnings are directly deposited in the Government Consolidated Fund.