---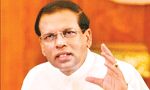 The destruction of natural resources and all other components essential for the survival of living beings on earth by people themselves was the biggest challenge faced by the world today, President Maithripala Sirisena said.
At the 6th national programme at Nuwara Eliya Town Hall yesterday to create a Narcotics Free Sri Lanka, he said the production, distribution and abuse of drugs had become a menace that needs to be eradicated more by example than by precept.
"Although the Nuwara Eliya district can be identified as one of the main economic centres of the country with its plantation crops such as tea and food crops such as vegetables and fruits, some 18% of those living in the district are undernourished. A comprehensive study is needed to find out whether there was a link between the use of tobacco, alcohol and malnutrition because the district was the second highest tax payer for tobacco and alcohol after Jaffna," the President said.
He said the government was determined to free the nation from the perils of narcotics, tobacco and alcohol by 2020
The President said he would make all drug prevention programmes better organised and efficient and directed the officials to include the discussions on drug prevention into the agendas of the District and Local Development Committees.
He said one of the reasons for the high level of poverty and undernourishment among the people in the Nuwara Eliya District was drug addiction among males and females.
The national programme was organized by the Presidential Task force on Drug Prevention.
The President unveiled the plaque on educating people about drug prevention.
The report on the National Drug Prevention Programme of the Nuwara Eliya District was presented to the President by NE District Secretary K.H.A. Meegasmulla. Minister P. Digambaram, Central Province Chief Minister Sarath Ekanayake, Member of Parliament Muthu Sivalingam, President's Senior Additional Secretary Rohana Keerthi Dissanayake and Presidential Task Force for Drug Prevention Director Dr. Samantha Kithalawarachchi were among present.