---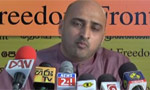 The National Freedom Front (NFF) today urged the government to immediately remove the Navy Commander from his post and launch an investigation to the incident where the Navy Commander had allegedly assaulted a journalist during the protest at the Hambantota Harbour.
Addressing a media briefing, NFF Media Spokesman Mohammed Muzammil said the government has tactfully used the Navy Commander to cover up the selling of 80 per cent of the Hambantota Port to a Chinese company.
"The government has tarnished the reputation of the Sri Lanka Navy as well as the Navy Commander following this incident. At present the government has called for an investigation from the Navy Commander instead of removing him from his post," he said.
He said it was evident from these incidents that the government was in need to make the journalist proved to be guilty whereas the Navy Commander would remain out of the blame.
He said the NFF had decried the suppressive nature of the government. "The government should have dealt with the protesting workers at the Hambantota Harbour in a more humane manner by arranging a discussion for them with the related authorities," he added.
Meanwhile, the NFF urged the government to refrain from selling the 80 per cent of the Hambantota Harbour to a Chinese company and added that the government should offer an immediate solution to the issues of the workers at the Hambantota Harbour. (Kalathma Jayawardhane)
Video by Buddhi