---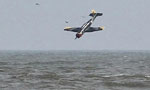 Myanmar has halted an investigation into unconfirmed reports of an aircraft crashing into the sea off the country's west coast on Friday, a senior official with the Civil Aviation Department (CAD) said.
Staff from CAD's office on Manaung Island off the coast of northwestern Rakhine state had been sent to the area where the plane was reported to have gone missing, but could not find any evidence of any crash taking place, CAD official Tin Maung Ni told Reuters.
The department had not received any reports of missing aircraft from airlines operating in Myanmar airspace.
"So far as we have heard from the CAD staff on the Manaung Island things are normal there, so we're not doing anything," said Tin Maung Ni.
The official had earlier told Reuters about "an unidentified aircraft" that had crashed into the sea off the west coast and that authorities were trying to locate it.
Head of the Manaung Police Department contacted by telephone said he had checked reports of the plane crash "thoroughly" and not found anything to substantiate them.
Myint Kyaw, the spokesman for the Information Ministry, denied any crash had taken place after checking with the Ministry of Transport and Communication. (Reuters)