---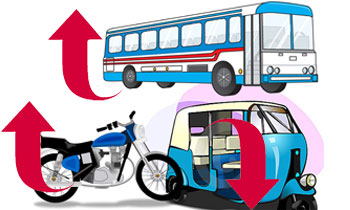 The registration of motorcycles and buses showed an increment during 2017, the Department of Motor Traffic (DMT) said.
DMT Commissioner General A.H.K. Jagath Chandrasiri told the Daily Mirror, the total number of vehicles registered for 2017 was recorded as 448,625. It was 493,325 in 2016.
"There is a 44,703 increment on total vehicle registrations in 2017 compared to 2016," he said.
However the number of registration of motorcycles had increased to 341,720 in 2017 from 340,125 in 2016.
The number of registration of three-wheelers recorded dip at 23,395 in 2017 from 56,945 in 2016.
"The number of registration of buses recorded an increment. It was 3,302 in 2017, that was 2,685 in 2016," he said.
"The DMT hopes that the registration of vehicles with engine capacity less than 1000cc will increase following the import tax amendments in the budget 2018," he said. (Chaturanga Pradeep)