---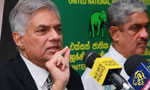 Asserting that the COPE report was a victory for the Yahapalana Government, Prime Minister Ranil Wickremesinghe said today he would call for a meeting of the Monetary Board of the Central Bank next week and take steps for probing the Greek Bond.
The Prime Minister was addressing a function to mark the appointment of Minister Field Marshall Sarath Fonseka as the UNP organiser for Kelaniya
He said Parliament would also conduct a probe into the Greek Bond issue that happened several years ago.
"We will take follow up action on the recent Central Bank bond issue after consulting the Attorney General," he said.
The Prime Minister said his critics dubbed the bond issue as the gravest fraud.
"They refer to the court cases against them as political victimisation. Those critics went before the Bribery Commission against me. If the Commission summons me, I will not hesitate to go there. I will go without any hesitation and give a statement. Otherwise, I won't come before the Commission with a group of people to protest. I will not be protesting saying the nation and Buddhism are at stake," he said.
The Prime Minister assured that investigations would be carried out regarding all the frauds and those responsible would be penalised.
"We always implement the Rule of Law," he said.
Video by Buddhi