---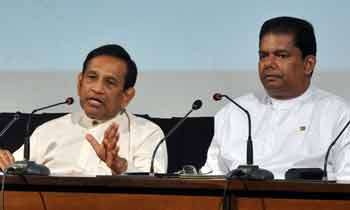 Cabinet spokesman and Minister. Rajitha Senaratne yesterday said Arjuna Mahendran would be arrested by the Interpol from wherever he was hiding and handed over to the Sri Lankan Police no sooner than later.
Dr. Snaratne added that no one knew his whereabouts but he would not be able to play this hide and seek game for too long.
However, he said he sometimes felt whether only the 'Yahapalana Government' was concerned about judicial independence when the media questions on how former Defence Secretary Gotabaya Rajapaksa continued to get bail without arrest despite the FCID filing charges against him under the provisions of the Public Property Act.
Addressing the media at the weekly cabinet news briefing, Minister Senaratne said the media must think whether any other average citizen had this luxury.
The question and answer session that ensued at the news briefing is as follows.
Daily Mirror:
The entire country expects quick legal action against the suspects of the Central Bank Bond Scam. Now that the 'Judicature Amendment Bill' that paves the way for setting up of Special 'Trials at Bar' for speedier administration of justice, could we expect the bond scam be referred to one of these special High Courts as the first case for trial?
Minister Senaratne:
This has to be decided by the Hon. Chief Justice after high profile cases were referred to him by the AG.
Daily Mirror:
You get a lot of flak from many quarters for not taking action against wrong doers of the previous government. Don't you want to punish them?
Minister Senaratne:
It was me and a few other Ministers with a backbone who questioned President Mahinda Rajapaksa face to face on various crimes committed under him.
Daily Mirror:
Where is the delay?
Minister Senaratne: You decide yourself as to how and why those who had properties in Gampaha, Matara, Kduwela and many other places worth millions of rupees got off the hook from the law and finally their properties were forfeited.
A lady journalist from a private TV station: When do you arrest the first accused of the bond scam Arjuna Mahendran?
Minister Senaratne: Pretty soon.
Journalist: Why this delay to arrest him;
Minister Senaratne: (in a raised tone)
Why do you ask only about the arrest of Arjuna Mahendran. Why do you never ask the delay running to several months to arrest Udayanga Weeratunga who is involved in fraudulent MIG deal and caused losses millions of dollars to the government? Why you have never asked about the Jaliya Wickramasuiriya who fled the country and evade arrest for months? The losses incurred to the government from the bond scam is only Rs. 10 billion and the government has suspended accounts of Perpetual Treasuries Ltd. worth over Rs. 11 billion, much less than the losses from MIG deal.
Why don't you ever ask about the allegations leveled against nearly 30 Rajapaksa family members and their acolytes? You have never asked me about private TV station CSN owned by Yoshitha.
Journalist: What is progress that has been made to arrest Arjuna Mahendran by the government?
Minister Senaratne:
The government has done all it could do to arrest him and bring him back. It is up to the Sri Lanka Police, the Interpol and the country where he is in hiding. If and when he was arrested in a foreign country, we must have an Extradition treaty to bring him back to Sri Lanka. If not we have to seek other legal avenues to bring him here. It takes time because Interpol is in France, not in SRI Lanka.
Journalist:
Is there a move to taken over Samurdhi Banks under the Central Bank?
Minister Senaratne:
Yes. It is necessary because all commercial banks must come under the scrutiny of the government.
Journalist:
But you can initiate an inquiry under the 'Money Laundering Act' if Samurdhi Banks have committed any financial irregularities.
Minister Senaratne:
If so, all other banls also can be scruitinized under the provisions of the MLA. Thousands of Samurdhi Banks established to assist poor to stand on their own feet cannot be run in the manner that Danduwam Mudalalai or Sakwithi did their transactions. (Sandun A Jayasekera)