---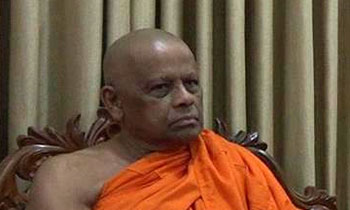 Asgiriya Chapter Mahanayake Most Ven. Warakagoda Sri Gnanarathana Thera stressed that a new constitution was not required and that the Maha Sangha had already informed it to President Mathripala Sirisena .
During a meeting with former Minister and National Freedom Front leader Wimal Weerawansa yesterday at the Asgiriya Temple, the Ven. Mahanayake Thera said they explained their stance regarding the proposed new constitution to the President and Prime Minister and that the President agreed to their opinion.
The NFF Leader and several representatives of the party met the Mahanayake Theras of the Malwatta and Asgiriya Chapters to explain the circumstances that led to five Parliamentarians including him to resign from the constitutional assembly.
The Anunayake Thera of the Asgiriya Chapter said the President informed them that even the draft of a new constitution was not yet ready, but they were not aware whether it was the Prime Minister's opinion as well.
"Although the President said so, the government is apparently in the process of promulgating a new constitution. However, we told him that we would not agree to a process delegating more powers to the provincial councils. Chief Minister Wigneswaran has insisted that the Northern province should have a a federal system. It is inevitable that the other provincial councils would demand a system with similar powers. With this in view we highly appreciate the step taken by you to resign from the constitutional assembly" Ven. Anunayaka Thera said.
Parliamentarian Wimal Weerawansa said they decided to resign from the constitutional assembly in the wake of the Mahanayak Theras' statement that a new constitution was not required at this stage.
" If the Mahanayake Theras were not agreebale to a new constitution, we should not continue to function in the constitutional assembly. We are not prepared to support any move rejected by the Mahanayake Theras. The government empowered the entire parliament represented by 225 members to function in the capacity of constitutional assembly. After five members resigned, the constitutional assembly is defunct now. We have compelled the government to give up the process. Only the individuals having relations with NGOs are behind this secret ploy to transform the country into a federal state." He said.
Later he met the Mahanayake of the Malwatta Chapter Ven. Thibottuwewe Sri Siddhartha Sumangala Thera and discussed on the government's plan to introduce a new constitution. However the media was not allowed to cover his meeting with the Mahayanaka Thera.
Parliamentarian Udaya Pathma Shantha Bandara, Provincial Council Members Nimal Piyatissa, Nimal Premachandra, and Former Parliamentarian Piyasiri Wijenayaka attended the meeting. (J.A.L.Jayasinghe)