---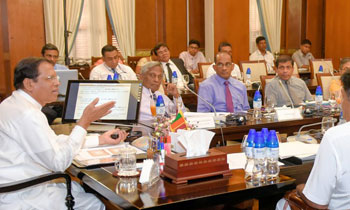 President Maithripala Sirisena has given instructions to the relevant authorities to prepare a system to issue licenses to excavate sand and stones needed for the construction industry, at one place.
President Sirisena gave these instructions participating at a meeting held at the Presidential Secretariat yesterday to discuss the challenges faced by the construction industry and the proposed solutions to the issue.
President Sirisena expressing his views on rumours circulating in the country that the Government has terminated the issuance of licenses to excavate sand and stones, said that it was a totally wrong interpretation and added during the rule of previous regime the Government took several steps to prevent the irregularities done by the smugglers and some entrepreneurs in excavating sand and stones and further said that there was no restriction imposed to excavate sand and stones needed for the construction industry from allocated places.
President Sirisena further said that a system will be implemented to issue licenses directly to the relevant institutions to excavate sand and stones needed for the construction industry without the interventions of a third party.
It was discussed in detail regarding the steps that should be taken to encourage and promote the local construction industry.
During the meeting, the attention was drawn regarding the issues relating to the delay of payments to the contractors and also attention was paid to uplift the small-scale contractors through establishing a fund according to the provisions of the Construction Industry Development Act, conducting researches related to the industry, introduction of environmental friendly, cost effective and efficient construction technology methods, introduction of social welfare securities systems to people in the construction industry like pension schemes and long term insurances.
It was also discussed on the establishment of a Task Force for the human resources development required to the construction industry. The President instructed the relevant sections to continue the existing programmes to reduce the shortage of construction skilled workers.
Special attention was paid regarding the huge environmental damage occurred in excavating sand and stones for the construction needs and broad attention was drawn regarding promotion of utilising of sea sand for construction activities minimizing the use of river sand and also discussed regarding the ways of encouraging private investors to use sea sand.
Providing opportunities for the local construction industrialists in foreign investment projects, minimizing of the participation of foreign construction companies in local construction projects were also discussed.