---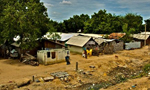 The Sri Lanka government has said it has found land for all 97 landless families of internally displaced persons, who have been living at the Poonthottam welfare camp in the Vavuniya district of the Northern Province, the Hindu newspaper reported.
Forty acres of forest land in Puliyankulam of Vavuniya has been earmarked for 31 families. A decision to this effect was taken at a recent meeting chaired by President Maithripala Sirisena.
Already, for 66 families, 60 acres of land in Chinnamadam in the same district was identified and houses were being constructed, according to V. Sivagnanasothy, Secretary in the Ministry of Rehabilitation and Resettlement. A non-governmental organisation, Gnanam Foundation, had been entrusted with the task of building homes for all the 97 families.
The Secretary, referring to information recently furnished by his Minister D.M. Swaminathan in Parliament, said that 7,618 acres of land in the Northern Province, belonging to the IDPs, was still the authorities. Of them, 5,606 acres were in Jaffna.
There were 971 families of IDPs at welfare camps. The total number of families to be resettled in the Northern and Eastern provinces was 12,505. Since the present government came to office last year, 3.136 acres of private lands were released for resettlement.