---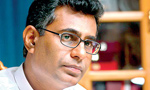 Megapolis and Western Development Minister Patali Champika Ranawaka today rejected having any involvement in awarding a tender to supply coal for the Lakvijaya Coal Power Plant which had incurred a loss of Rs. 1.2 billion to the state.
Minister Ranawaka said the controversial tender had been presented to the Cabinet in September 22, 2015 at a time when he was no longer the power and energy minister.
"However, I wrote a letter to President Maithripala Sirisena informing him about the tender which was already before the Procurement Appeal Board which comes under the purview of the President. In my letter which was sent in August 13, 2015, I requested him to cancel the tender and call for fresh bids. After the tender was challenged in Supreme Court, it too gave an order to cancel the tender and to call for fresh bids," he told a news conference held at the ministry.
He reiterated that he was not responsible for the controversial tender and said he only shared the collective responsibility of the Cabinet for approving it.
During a news conference on Wednesday, UPFA MP Wasudeva Nanayakkara alleged the arrangements were made by Minister Ranawaka to award the tender and later on Minister Ranjitha Siyambalapitiya was dragged into the blunder. He called for a parliamentary select committee to look into the coal tender issue.
Rejecting the claims, Minister Ranawaka said he would take legal action against MP Nanayakkara for making baseless allegations.
"These are the people who had no backbone to raise their voice or to leave the Cabinet when corrupt deals were taking place. Then ministers charged of having an economic hit man but did nothing but we left the Cabinet and the corrupt government," he said.
Commenting on the call for a parliament select committee to look into the coal tender, Minister Ranawaka said he would wholeheartedly agree for such a move and that in fact it should look into all tenders and deals of coals taken place since 2009.
"If I'm responsible for anything, it is for resulting in a profit of Rs.1,803 million to the Ceylon Electricity Board by introducing spot tendering," he said.
Meanwhile, he said that it was a well known secret that there was a 'coal mafia' in the country and charged a 'powerful' daughter was involved in the Noble Resources Company, which has been awarded the tender.(Lahiru Pothmulla)