---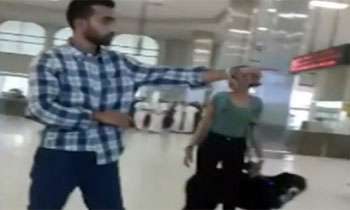 The Negombo Magistrate handed a six-month jail sentence suspended for five years for the Kuwaiti couple, who were arrested by the Airport Police for assaulting five customs officials on July 27, after they were found guilty.
Police said the case was taken up for the hearing on Friday and the Magistrate ordered to fined Rs. 9,000 for each over six charges.
Five officials of the Customs Department including a woman were injured after they were allegedly assaulted by the Kuwaiti couple at the Bandaranaike International Airport (BIA) when they were requested to quarantine their pet dog.
The 32-year-old woman and her 29-year-old male partner, who arrived in Sri Lanka from Kuwait were not willing to proceed with the animal quarantine regulation and they had attempted to forcibly exit the BIA Arrival Lounge along with their pet dog.
The woman was caught on CCTV cameras assaulting customs officers who tried to stop them.
The couple was produced in the court on July 28 and were released on bail.
The pet dog was confiscated and later given back to the couple to be taken out of the country.(Darshana Sanjeewa)