---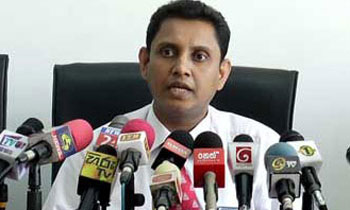 The Government Medical Officers Association (GMOA) today charged that Minister of Higher Education Lakshman Kiriella has no authority to declare about the concluding dates of cases which were ongoing in courts.
While referring to a media statement claimed to be released by Minister Kiriella asking the State university students to attend to lectures, GMOA Secretary Dr. Haritha Aluthge told a news conference that in the same statement, the minister had assured that the case filed at the Supreme Court on SAITM would be concluded within one and half months.
"The Minister has earlier revealed several facts in Parliament about the verdict of the case filed in the Court of Appeal on the same issue. The Minister has used parliamentary privileges to avoid our claims at that time," he added.
He said that this remark could be regarded as interference to the judicial proceeding by the Minister and added that it was evident that there was another political and economical agenda going on with regard to this SAITM issue.
Meanwhile, he said that the student enrolments to SAITM should be suspended immediately as the initial step of solving this issue. He also said it was mandatory to make a legal framework to it and added that a gazette should be issued on the suspension of the student admission at the SAITM.
He said that parents of the State university students were ready to go for a fast unto death if the government would not provide their children with a reasonable solution to the issue. (Kalathma Jayawardhane)
Video by Sanjeewa