---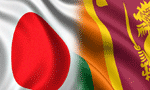 The Japanese government had granted Rs. 10 billion concessionary loan to implement development proposals made in the 2016 Budget, the Finance Ministry said today.
It said that this was the first time in the diplomatic history of Sri Lanka and Japan that such a large amount was granted.
The declaration with regard to the Rs. 10 billion loan was handed over to Finance Minister Ravi Karunanayake by Japanese Ambassador to Sri Lanka Kenichi Sugama at the Ministry of Finance yesterday (30).
According to the Finance Ministry, the loan should be repaid within 25 years and, a seven year grace period had been given to start repayment.
Sri Lanka has to pay only 1.4 % interest for this Rs.10 billion loan, it said.