---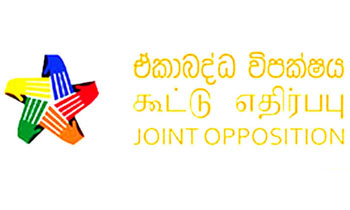 Prime Minister Ranil Wickremesinghe's assurance that the Government would only allow the participation of foreign observers and not foreign judges in an accountability mechanism to look into war crime charges was untrue and dishonest, the Joint Opposition said today.
It said the Premier did not come up with a clear and a direct answer to their Leader MP Dinesh Gunawardane's question in Parliament on Tuesday as to how Sri Lanka agreed upon to a resolution which called for foreign judges in a local judicial mechanism, when both the President and the Premier were against such a move.
The sixth clause of the resolution, which was adopted by the UN Human Rights Council says '……..Also affirms in this regard the importance of participation in a Sri Lankan judicial mechanism, including the special counsel's office, of Commonwealth and other foreign judges, defence lawyers and authorized prosecutors and investigators'.
"The UNHRC resolution which was adopted in October 2015, clearly and directly mentions about the involvement of foreign judges in a local accountability mechanism. There is no mention of foreign observers in the resolution," Professor G.L.Peiris told a news conference. (Lahiru Pothmulla)